February inventor spotlight: Clay Sneller, PhD
Name: Clay Sneller
College: Food, Agricultural, and Environmental Sciences
Department: Horticulture and Crop Science
Research areas of focus: Wheat breeding and genetics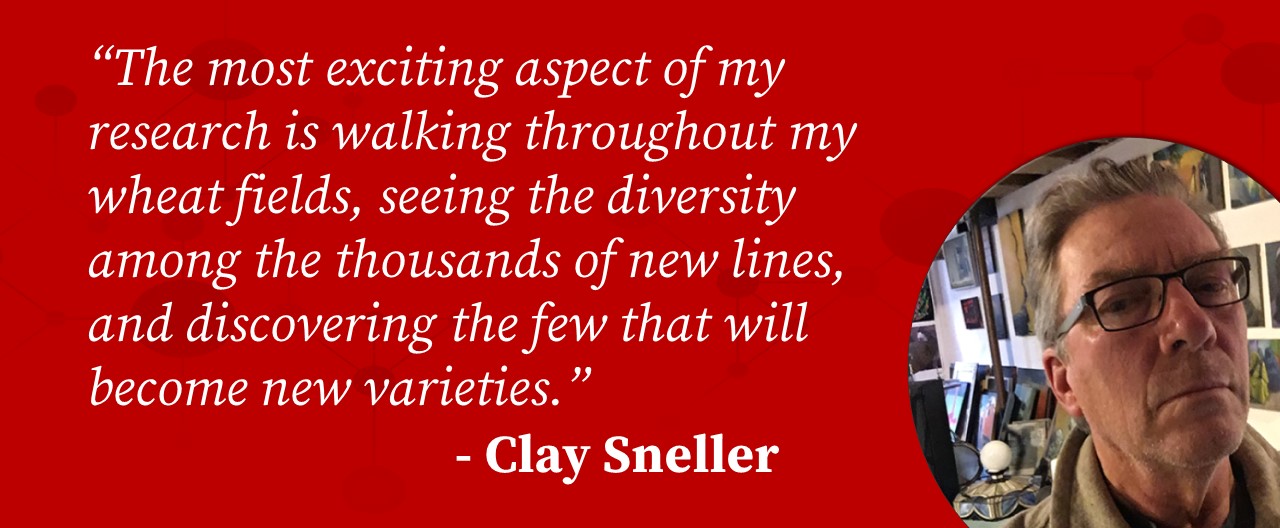 Clay Sneller has worked with Ohio State's Technology Commercialization Office to license a series of soft winter wheat varieties that he developed through his research to a seed company – now reaching wheat growers throughout the Midwest.  
The wheat varieties have shown to have exceptional grain yield per acre and good disease resistance – as determined in competitive trials at more than 10 locations throughout the Midwest. These trials include varieties from both universities and private sources. "This stable performance means growers will likely experience higher yields in the future and, thus, maximize profits," says Jay Dahlman, associate director of licensing at Ohio State.  
Of particular concern for Ohio growers is resistance to Fusarium Head Blight (FHB). FHB produces a toxin that both reduces yield and can render the grain unsuitable for human consumption. "The increased yield helps to make wheat a profitable crop in the Midwest and the disease resistance protects that yield while also contributing to food safety and food security," says Sneller. "Overall, improved wheat varieties benefit the entire wheat process chain, from growers to consumers." 
Sneller was inspired to enter agriculture by his desire to help meet the global need to increase the world's food supply. He started his career in industry, but found by entering academia, he could mix his fondness for plant breeding and stats in plant genetics.
"Developing suitable and improved varieties is a very integrative science and even an art. I was attracted by the impact new varieties have on agriculture and the diversity of activities involved in the development process," said Sneller. "The most exciting aspect of my research is walking throughout my wheat fields, seeing the diversity among the thousands of new lines, and discovering the few that will become new varieties." 
Sneller received his bachelor's degree in agronomy/plant protection from Ohio State and earned his master's and doctorate degrees in plant breeding and genetics from Michigan State University. He began his academic career at the University of Arkansas studying soybean and arrived at Ohio State in 2001 to focus on wheat. In his career, he has consulted on international plant breeding projects, led research teams, and was named a Fulbright Scholar. In this video from Ohio State Agronomy, Sneller shares how his research helps bring value to wheat growers, industry and ultimately customers.
---
Want to know how to commercialize your own research?
The Technology Commercialization Office is pleased to share this and the stories of other researchers who are pursuing commercialization of their discoveries in order for them to have the most impact on society. Learn more about how you can translate your research into the marketplace or other Ohio State innovators.